Plus helpful tips for having wedding receptions at a barn venue in Cincinnati, OH
What should I consider when looking for Cincinnati barn wedding venues?
Whether you are looking for the rustic charm of a historic brick barn or a farmhouse in a gorgeous setting for your special day, weddings in a barn setting have nostalgia and down-home comfort that can make your Ohio wedding dreams come true. Here are some important factors to consider when choosing a barn wedding venue in Ohio.
The best time of the year for a barn wedding
When planning your wedding day at a barn event venue in Ohio you should know that they are best in the spring, summer, and fall. If you do not mind giving up prime time because of weather, climate-controlled barns or an indoor alternative are available.
Location, location, location
The setting of where your wedding venue is located is very important. Good barns are often hard to find in urban areas around greater Cincinnati, but this is preferable if you do not want a long commute from the church or reception hall on the day of your event.
Abby's Farm is conveniently located just 45 min. from downtown Cincinnati making our facility a quick and convenient getaway.
The cost of the wedding venue
This will help you figure out how much money you need to set aside for your barn wedding or reception. This can have a lot to do with where the grounds are located.
What is included in the price?
Check the online pricing and make a note of what is included in their pricing, see if there's a difference between the basic package vs. the most expensive one with all the bells and whistles.
You can find Abby's Farm pricing here.
Will you need to pay extra for chairs or cutlery if it's not included in the venue cost? What about additional decorations, lighting, or electricity hookups?
Understanding what is included in the price before moving forward will help you keep your costs down. It'll also prevent any unwelcome surprises.
Are there great photo opportunities at the venue?
One of the most important things is to make sure there are plenty of great shots for wedding photos on the property. Check for photos online and if possible visit the property with your photographer in advance to determine if it will be the perfect venue.
Check out the amazing photo opportunities at Abby's Farm here

Is there catering available?
Food is probably one of the biggest expenses at a wedding, so choosing a wedding venue that offers catering services or allowing outside catering can help keep your costs down. Some special events venues add a catering charge, go over the details when you look at prices.
What should I consider when looking at barn reception options?
When it comes to a charming barn reception site, you are looking for a unique space that allows your guests to walk in and feel at home.
Here are some important factors to consider when choosing a rustic barn reception venue. Every couple will have different criteria for their perfect place to have their reception but here are some general factors to consider.
Do you want the ceremony to be in the same location?
Many barn venues also offer a space for people to get ready – and if you want to tie your ceremony and reception together in one location, that's important.
Is there enough parking?
If you're having a large event, then plenty of parking space is essential.
Where will guests be seated?
You'll want to consider the number of tables and seating options you'll need. Make sure there is enough seating for the whole family and all your friends, as well as a dance floor and a stage if needed.
Can I decorate the barn?
Also, see what decoration options are available. Because most farmhouses have been around for generations, they may not allow any major changes to be made to the exterior. If you're okay with that, then go for it!
Is there a kitchen?
If you're having an elegant dinner, then your caterer will need access to the barn's kitchen to create the reception feast. Some barns have kitchens on-site while others don't. Make sure you check if this is something you'll need before looking at barn venues.
How much time do you have?
Many barns are rented out by the hour or half an hour, so it's important to find one that fits your budget and timeframe.
What is included in the price?
Some barn events venues include tables, chairs, linens, and even cocktail tables. Others require you to create all your own decor or rent them from a third party. Be sure to get detailed information on all that is included to avoid surprise expenses.
What are the views like?
Some farmhouses have amazing views of the country from their garden or deck, so if that's important to you, be sure to check it out before booking your reception.
Abby's Farm has an amazing waterfront view and a deck with the perfect backdrop of the lake that makes an ideal setting for your wedding reception and some of the best views Cincinnati has to offer.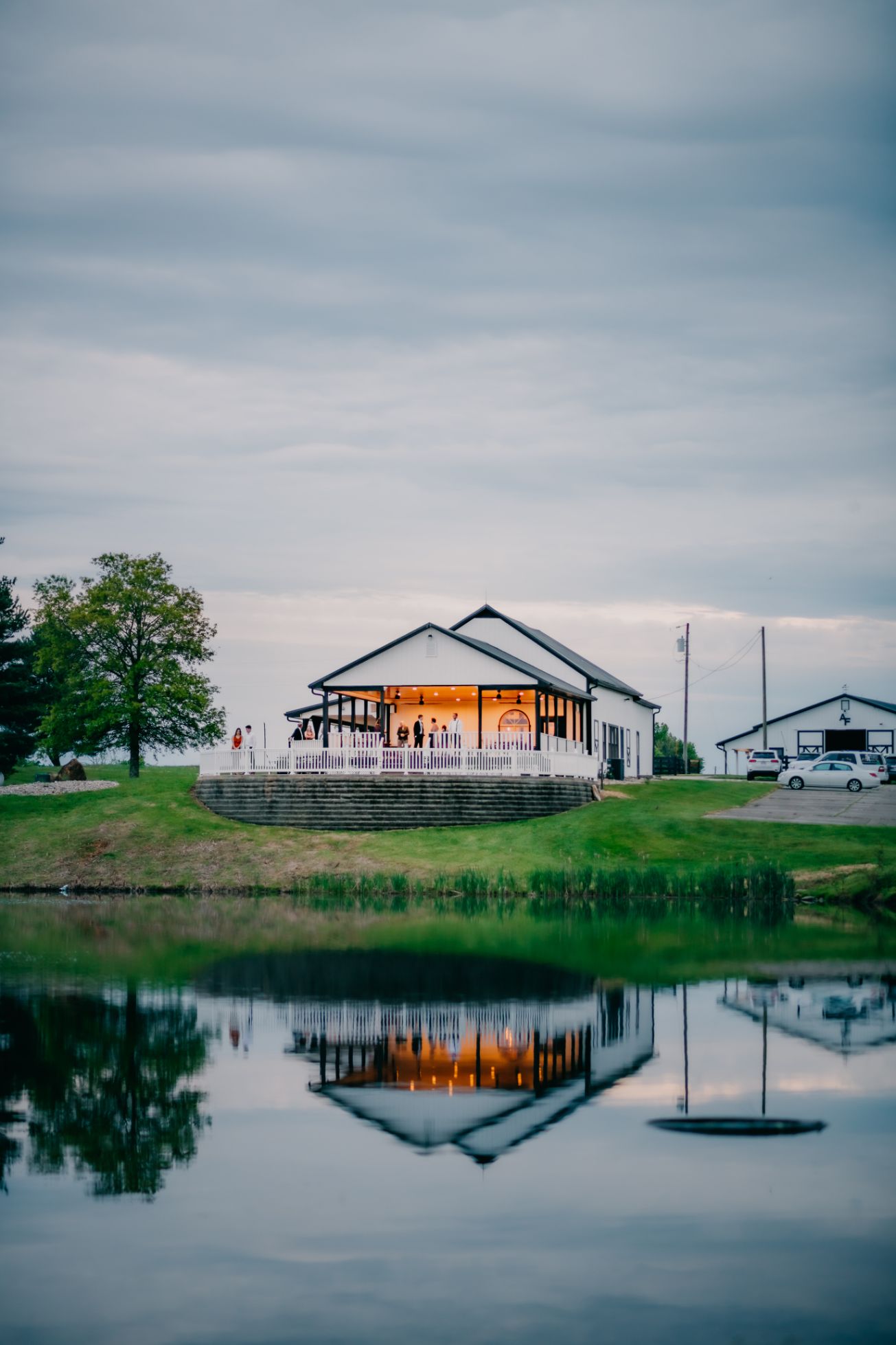 Is there air conditioning?
If you're having a lot of guests, then air conditioning is essential. Otherwise, you'll find yourself sweltering in the summer sun!
The number of guests attending the reception.
Generally, the bigger the event barn weddings means that there is more room for guests to be seated and mingle. A lot of barn weddings receptions in Cincinnati are tiered so they seem larger than they actually are. Make sure your wedding guests will be comfortable and not overwhelmed by the size of the barn reception.
At Abby's Farm, our completely renovated reception barn can accommodate up to 250 guests with combined indoor and outdoor seating.
Barn reception ideas
A barn reception doesn't have to be rustic and country, or traditional. Think outside the box a little bit and make the style of your barn reception as unique as you are!
The main content of your decor should reflect the setting, not overpower it. Search for a few elements that really highlight where you're having your big day—whether it's elegant bistro lights on a simple chandelier, garlands of greenery, or antler chandeliers.
Small wedding receptions in Ohio are usually more intimate events so you can easily personalize your decor. Instead of lush flower arrangements consider candles, fresh fruit, mason jars filled with flowers, vases full of twigs, and berries…you get the idea.

Barn venues are a great choice for weddings in Cincinnati.
If you're looking to have an intimate wedding, then barns provide the perfect setting with their rustic and country feel. Barn receptions can be customized by adding your own personal touches like lush flower arrangements or candles for an elegant ambiance that matches your style perfectly.
You'll find plenty of parking, tables set up for dinner, dance floors ready to go-and with views of the lake on Abby's Farm in Bethel, OH! Contact us today or find us on WeddingWire if you want more information about our beautiful venue options available in Ohio near Cincinnati.