The Place to Celebrate
One of the Most Beautiful Cincinnati Event Venues
One of the Most Beautiful Cincinnati Event Venues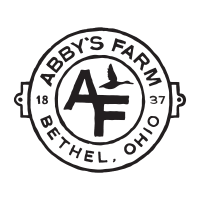 an unparalleled experience
AT ONE OF THE TOP ALL INCLUSIVE EVENT VENUES IN CINCINNATI
Idyllic
&

private setting
Nestled in the rolling hills of Clermont County, Abby's Farm is one of the best wedding venues in Cincinnati, OH. Picture you and your loved ones together in this peaceful and serene setting celebrating your special day. You will have total privacy and exclusivity on 130 acres of gorgeous greenery set back away from any roads with multiple waterfront views and an endless Ohio sky as your backdrop.
Our property
We have traced the history of Abby's farm back to 1798. Originally 1000 acres issued as payment to a Revolutionary War soldier, this property has been inhabited by generations of farmers as well as Mark Carley who founded the city of Champaign Illinois. During the 1950's, horses that competed in the Olympics campaigned and trained here. The mature hardwoods…the lakes… the most gorgeous sunsets. Come experience this hidden gem that is 225 years in the making. 
Your big celebration
&

more
Abby's Farm is one of the most picturesque venues in Ohio. You can choose from 6 ceremony sites to celebrate your special day. Our property has 130 acres and features a 1837 Farmhouse, fully restored Reception Barn, and 12 acres of water. We are open to host host weddings, bridal showers, corporate events, birthdays, anniversaries, family reunions, vow renewals, bridal showers, baby showers, galas, and more.
event spaces
No neighbors, no freeways, no noise – just pure nature & bliss.
"My husband and I decided to go a different route with our wedding and wanted to do something different and off the beaten path. When we discovered Abby's Farm, we fell in love with the property." – Elizabeth
Inclusions for You
When you book your event at Abby's Farm, you get lots of inclusions, amenities, & special benefits. These include an on-site event supervisor, 6, 3, & 1-month planning meeting, set-up, tear down, and clean up, 5 miles of paved walking trails, lakeside firepit service, an incredible sound system, golf cart shuttle, white chairs and tables, multiple photo opportunities, outdoor games, & more.
The Farmhouse
Our 1837 Colonial Farmhouse is a cheerful space that has been fully restored to create the perfect space for you and your party to relax, rejuvanate and get ready for your special day. Granite countertops, exposed rafters and vintage lighting throughout, there is also a large room dedicated to the Bridal party. It contains a full bathroom along with an antique clawfoot tub, lighted mirrors, vanity seating, a laundry room and plenty of space for relaxing. Another perk is a second ready room, featuring a pool table and full bathroom. The lower level also includes a kitchen and family room to welcome your loved ones. The upper level features a Master Bedroom and a Guest bedroom.
The Reception Barn
This fully restored structure has served Abby's Farm for well over 100 Years. Originally used as a private facility for training Horses that competed in the World Olympics. Exposed beams, 14′ ceilings, updated amenities & a huge covered deck and wrap around porch   add to the charm of this 1900's structure. Overlooking a 5-acre lake, the views are beyond description.
The Grounds
130 acres of Ohio Valley farmland bordering Big Indian Creek. Gorgeous valleys of mature hardwoods, rolling open space grass fields and 6 lakes totaling 12 acres are just a few of the perks. Take one our bicycles and cruise the 5 miles of paved trails that weave in and out if the different terrain. Or how about just a peaceful seating to watch one of Southern Ohios best places to take in a sunset?