You can find Wedding Venues in Cincinnati for every couple
Cincinnati Wedding Venues
Cincinnati, Ohio is the perfect place for a wedding. It has everything that you could want, from quaint small-town charm to big city excitement.
Also home to our gorgeous rustic barn venue on a historic property situated on 130 acres located just 35 minutes from I-275. Couples love that we're one of the few outdoor wedding venues in Cincinnati, offering all-inclusive package options for weddings and elopements.
Cincinnati has been called the "wedding capital of the Midwest" and it's not hard to see why. With so many options available, you're sure to find the best wedding venues for your wedding day here!

Cincinnati has a prime location in the Midwest.
Cincinnati is the perfect spot for a destination wedding. There are plenty of airports in the area, so you and your guests can easily fly in. And since it's is centrally located it means that no matter where your guests are coming from, they'll be able to find a great place to stay.
The city's rich history and culture make for a unique wedding backdrop.
From the Dayton art Institute to the Downtown, Cincinnati is full of beautiful wedding venues with interesting histories.
You could even have your wedding at the Cincinnati Art Museum or the Cincinnati Music Hall, which has been referred to as "one of America's finest buildings."
The city is also home to a thriving nightlife and entertainment scene. With great restaurants and bars all around town, you can be sure that everyone will enjoy themselves in style!
Whatever type of wedding you're envisioning, Cincinnati is sure to have the perfect venue for you.
So start planning your dream wedding today – and be sure to check out Abby's Farm!
The variety of venues available for weddings.
There are all kinds of amazing wedding venues in Cincinnati to choose from.
There are historic buildings, quaint bed and breakfasts, luxury hotels, options for a banquet hall or manor house, or parks with stunning views of the Cincinnati skyline for wedding photos.
Whatever style you want for your wedding vision whether it's rustic or elegant, modern or traditional, indoor or outdoor space, you're sure to find a unique setting that will make your wedding unforgettable!
There's no question about it: Cincinnati has some of the best wedding venues.
Cincinnati has many beautiful parks and outdoor spaces.
There are dozens of great Cincinnati parks run by Premier Park Events that would be perfect.
The Cincinnati Zoo is the second oldest zoo in America and boasts one of the largest elephant exhibits in any U.S. zoo, so you can be sure that your wedding photos will look stunning!
If you're looking for a park with a more rural feel, check out Ault Park Pavilion. Ault Park has over 500 acres of green space and hills to explore, this park is perfect for a rustic wedding ceremony or wedding reception. French Park is also perfect for an intimate and estate-like historical setting.
Abby's Farm also offers beautiful outdoor spaces perfect for an outdoor ceremony. Truly a hidden treasure, with its rolling hills and waterfront views, Abby's Farm offers a picturesque backdrop for your big day. A great benefit to Abby's Farm over a park is that we have both outdoor and indoor options for your ceremony and reception so your wedding can continue seamlessly through any unexpected bad weather.
Check out our wedding packages here!
If you're looking for a wedding venue in the Cincinnati area for an outdoor reception/ceremony, Cincinnati has plenty of options for you.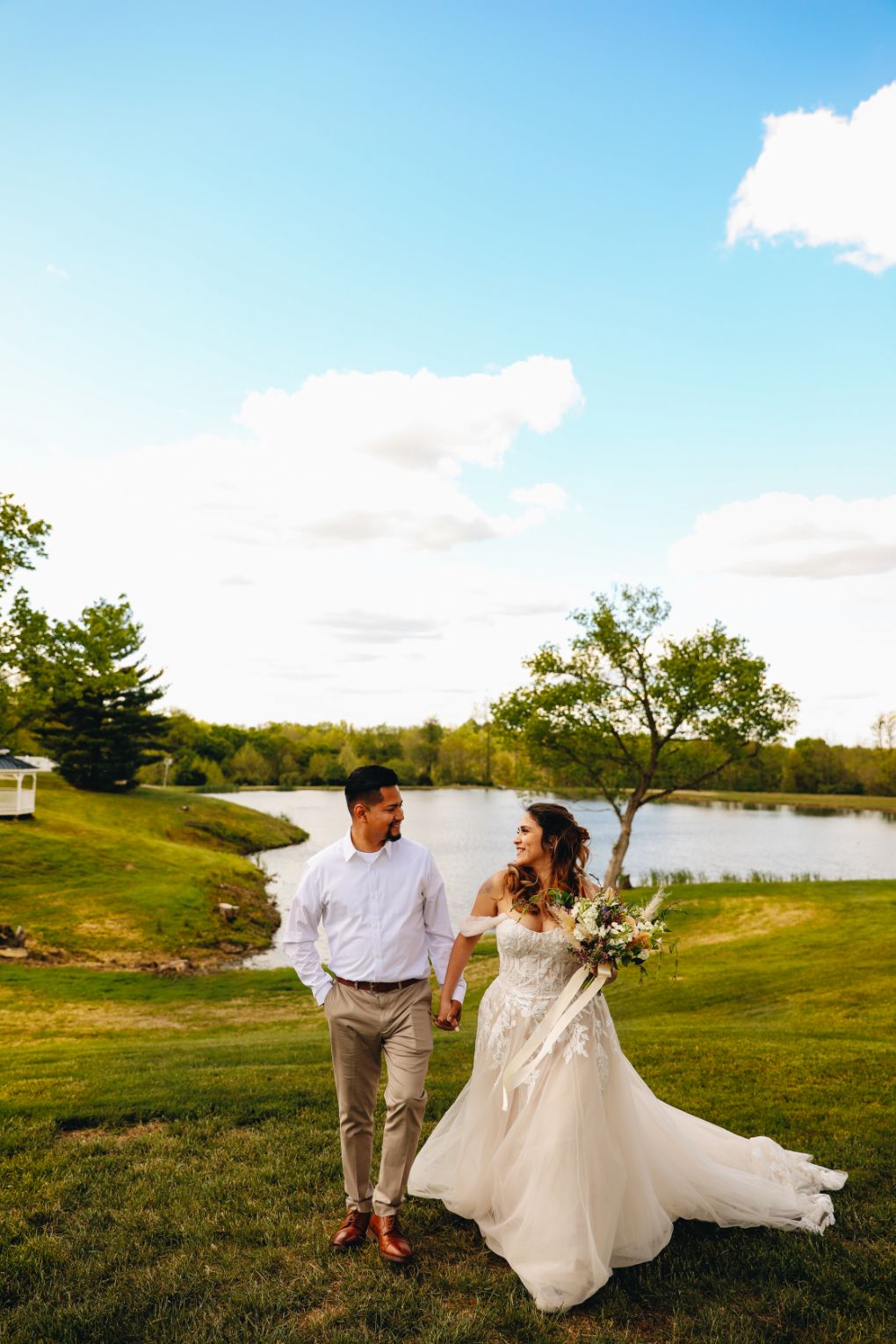 Cincinnati has many amazing hotels that serve as ideal venues for weddings!
Many of Cincinnati's hotels are historic landmarks, which means that your wedding photos will look amazing.
The Cincinnatian is a great choice for anyone looking to get married in style. This luxury hotel was built by the founder of Proctor & Gamble and has hosted many celebrities including Marilyn Monroe, Cary Grant, Bill Cosby, Tony Bennett, and Madonna.
If you're looking for a more modern hotel, the Hilton Cincinnati Netherland Plaza is perfect.
This Art Deco masterpiece was voted one of the top hotels in the world by Travel + Leisure magazine and offers stunning event spaces including a grand ballroom with floor-to-ceiling windows that offer amazing views of downtown Cincinnati.
Cincinnati event venues are great for real weddings too.
The Bell Event Centre is an event venue at Sawyer Point that offers a unique wedding venue with spectacular views of the Ohio River.
This historic location is perfect for the couple who wants a "rustic chic" wedding venue.
The venue can accommodate up to 300 guests, so you won't have to worry about space. And with indoor and outdoor ceremony space available as well as an option for cocktail hour and a full bar on their veranda overlooking the river, your guest list will be sure to love this wedding venue!
There are plenty of affordable accommodations for out-of-town guests.
Cincinnati is a great spot for destination weddings because it has plenty of affordable accommodations for out-of-town guests.
Abby's Farm offers overnight wedding packages that include a room for the bride and groom and 4 of your VIP guests in our newly renovated 1837 Colonial farmhouse, as well as breakfast the next morning.
There are plenty of other great places to stay in Cincinnati, from hotels to B&Bs to Airbnb. So your guests will have no trouble finding a place to stay!
Cincinnati offers many catering options that are perfect for any event or budget from high-end to more economical options.
Cincinnati has a lot to offer in terms of catering. If you're looking for something more upscale, The Palace Restaurant at the Cincinnatian Hotel is a great choice for your wedding reception dinner with its stunning views and award-winning cuisine!
As far as caterers go, Cincinnati offers some top-notch choices like Blackbird Catering Company, which has been voted "Best Caterer in Cincinnati" for several years in a row.
But if you're on a tighter budget, don't worry! There are plenty of great caterers that offer more economical options.
Two popular choices are Queen City BBQ and Eli's BBQ, both of which offer delicious food.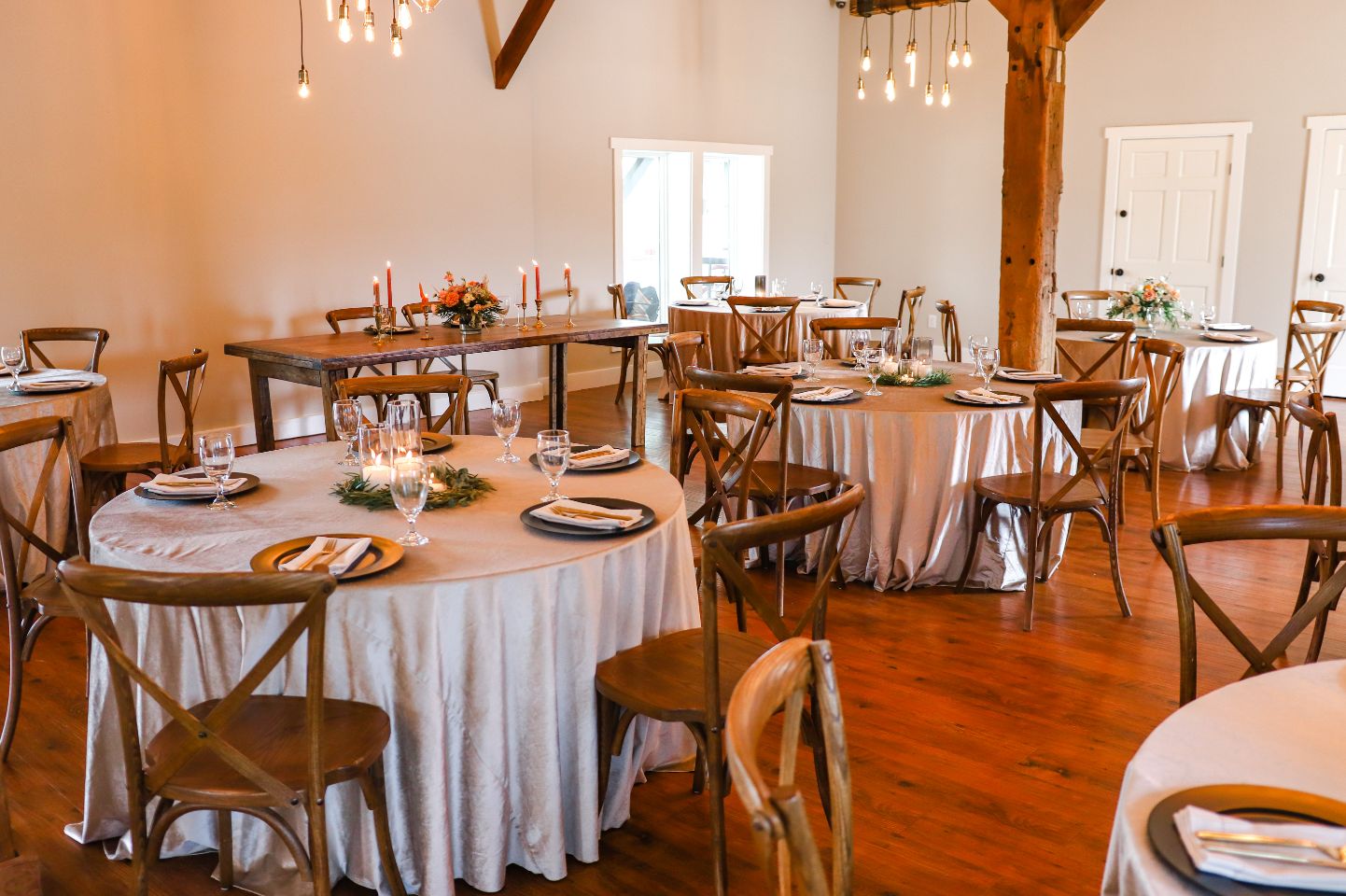 Wedding planners are readily available.
If you don't have the time or energy to plan your wedding, consider hiring a wedding planner.
A Cincinnati wedding planner will take care of all those little details, from planning a bridal shower and rehearsal dinner to helping you choose a DJ that will keep your dance floor packed so that you can enjoy yourself with family and friends.
There's no need to stress about your wedding – Cincinnati has everything you need!
There are a variety of wedding venues in Cincinnati that offer a budget for anyone. You can get married in a historic building, Washington park, or get away from the hustle and bustle of the city at our stunning rustic barn wedding venue with the privacy and exclusivity of 130 acres of the gorgeous country all to yourselves.
So, if you're looking for a one-of-a-kind wedding day experience in an amazing city with plenty of options, Cincinnati is the place for you! For more information on Abby's Farm's exclusive Cincinnati wedding venue, check out our weddings page.